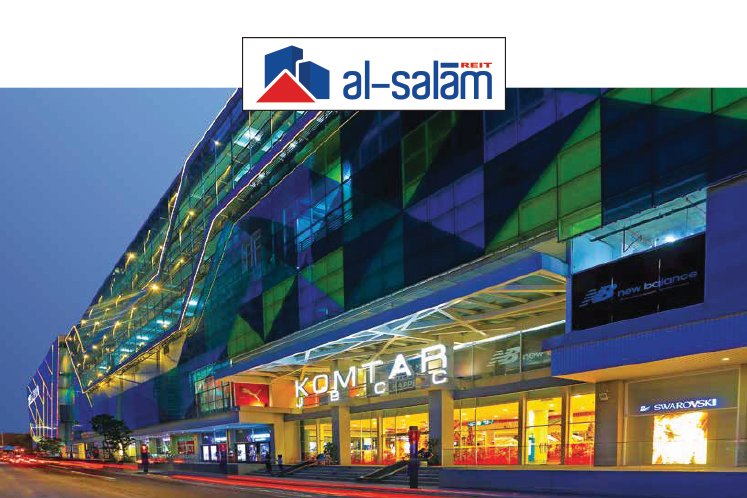 ---
KUALA LUMPUR (Dec 4): Al-Salam Real Estate Investment Trust (Al-Salam REIT) is acquiring 22 properties located across Malaysia for a combined RM115 million in a related party transaction.
The properties are in Penang, Perak, Selangor, Kuala Lumpur, Negeri Sembilan, Melaka, Johor, Sabah and Sarawak.
According to Al-Salam REIT, the proposed acquisitions mark the continuous growth of the REIT where it leverages on its major unitholder Johor Corp (JCorp) by tapping into its pool of assets or suitable properties in the market for acquisition opportunities. JCorp directly owns 23.54 million units or 4.06% in Al-Salam REIT.
In a filing with Bursa Malaysia today, Damansara REIT Managers Sdn Bhd, the manager of Al-Salam REIT, announced that Al-Salam REIT has entered into three conditional sale and purchase agreements (SPAs) with Kentucky Fried Chicken (Malaysia) Sdn Bhd, KFC (Peninsular Malaysia) Sdn Bhd, KFC (Sabah) Sdn Bhd and SPM Restaurants Sdn Bhd (collectively known as vendors) on Nov 30 to acquire the 21 restaurant properties and one warehouse/office.
Damansara REIT Managers is a wholly-owned subsidiary of Damansara Assets Sdn Bhd, which is a wholly-owned subsidiary of JCorp. The vendors are subsidiaries of QSR, which is 51% owned by JCorp.
As part of the proposed acquisitions, a lease agreement will be entered into with QSR Stores Sdn Bhd and Pizza Hut Restaurants Sdn Bhd upon completion of the SPAs, which will provide Al-Salam REIT with a stable and sustainable income stream over the next three years.
"The lease will be renewable every three years up to a maximum of 15 years, with an option to renew for a further period of 15 years," said Al-Salam REIT.
It added that the purchase consideration will be funded through a combination of proceeds from a proposed placement and borrowings.
The trust intends to raise gross proceeds of up to RM60 million from the proposed placement, which will involve the issuance of 10.89% of the existing approved fund size of Al-Salam REIT.
"However, the actual number of placement units to be issued will depend on the actual placement size and the issue price, which shall be determined later after obtaining the approvals of the Securities Commission Malaysia," said Al-Salam REIT.
However, in the event the proposed acquisitions are not approved by Al-Salam REIT unitholders or are terminated for any other reason, the estimated gross proceeds from the proposed placement will be utilised for repayment of the REIT???s borrowings and/or future acquisitions.
"Based on the average interest rates of Al-Salam REIT???s borrowings for the financial year ended Dec 31, 2016 (FY16) of 5.11%, every RM1 million in repayment of borrowings is expected to provide Al-Salam REIT with an interest saving of RM51,100 per year," it added.
DWA Advisory Sdn Bhd has been appointed as the independent adviser for non-interested Al-Salam REIT unitholders on the proposed acquisitions.
Currently, Al-Salam REIT???s property portfolio in the food and beverage (F&B) segment include 27 KFC and Pizza Hut restaurant outlets, five industrial premises and the MCHM Malaysian College of Hospitality & Management, which contributed RM20.41 million in revenue or 27% of total revenue for FY16.
As at Dec 31, 2016, the value of Al-Salam REIT???s properties was RM922.09 million. Upon completion of the proposed acquisition, the value of Al-Salam REIT???s properties will increase to RM1.08 billion.
"The proposed acquisitions will further increase property value to RM1.19 billion. The increase in the property portfolio size will further strengthen Al-Salam REIT???s position as a preferred Islamic REIT in Malaysia," said Al-Salam REIT.
"Barring any unforeseen circumstances and subject to all relevant approvals being obtained, the proposals are expected to be completed in the second quarter of 2018," said Al-Salam REIT.
At 2.30pm, Al-Salam REIT units were unchanged at 99.5 sen today, bringing a market capitalisation of RM577.1 million.